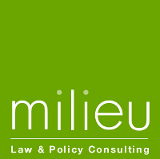 Public Health/OSH Specialist/Policy Advisor
Milieu Ltd
Brussels, Belgium
Milieu Ltd. is a multi-disciplinary consultancy based in Brussels with a record of excellence in international and European policy and law in various fields including, among others, environmental protection, energy, fundamental rights, financial services, internal market, migration. We provide our expertise mainly for European institutions and other public sector clients. Despite having grown rapidly over the years we retain a very informal, collaborative and largely non-hierarchical working environment. Please visit our website at www.milieu.be to understand more about our activities and our corporate culture.
We are looking for a highly motivated specialist in the area of public health, preferably with experience in the areas of health and environment, occupational health and safety and/or well-being at work issues to complement our team in this area. The position involves project management, substantive input to proposals and projects, as well as leading the development of Milieu's activities in the public health domain.
Key qualifications for the position:
A Master's degree in the field of public health or relevant area (e.g. environmental health or occupational health and safety);
A good understanding of human health as well as well as the wider determinants of health (such as the environment and employment);
Knowledge of European public health policy and the European institutions and preferably of implementation at national level in one of the Member States;
At least 3 years of relevant professional experience, involving coordination of EU projects;
Excellent spoken and written English and experience in drafting reports in English;
Good knowledge of other European languages is an asset;
Good writing skills for producing reports as well as online texts;
An independent, self-starter personality with a positive "can do" attitude;
Well-organised, practical-minded and able to prioritise a busy and varied work-load; and
Strong computer skills, particularly Microsoft Word and Excel.
What you will find at Milieu:
English as a principal working language;
A very informal, supportive and collaborative working environment;
A minimum of hierarchy and internal bureaucracy;
A strong dedication to better public policy;
Highly professional and a strong commitment to quality in what we do;
A dynamic multi-cultural atmosphere with some 30 nationalities;
A stimulating working environment recently featured in a UK Guardian article entitled "Are these the world's coolest offices" and Brussel's La Libre;
A relaxed dress code – except when we are meeting our clients;
Flexible working arrangements;
Regular company barbeques, training lunches, end of month meetings, bi-weekly yoga classes;
Biennial company weekend retreats to international locations.
Milieu would like to fill this position by October 2017.
Only short-listed candidates will be contacted. Milieu Ltd is an Equal Opportunity Employer.
Don't forget to mention EuroBrussels when applying.